Do you have trouble drying your clothes in your apartment?
Maybe not enough space to hang everything out??
This is where a small portable dryer is perfect for those living in apartments.
The most common issue when living in an apartment is space. A full sized dryer can take up way too much room and simply impractical. They can also be expensive to purchase and run.
The main factors to consider when choosing a dryer are:
Available space and the size of the dryer
Types of clothes you wish to dry
Spin or circulating air style dryer
We have found 5 portable clothes driers that are perfect for anyone living in a small rental apartment.
Here are 5 of our top picks.
Top portable dryer for an Apartment
BLACK+DECKER BCED37 Portable Dryer, Small, White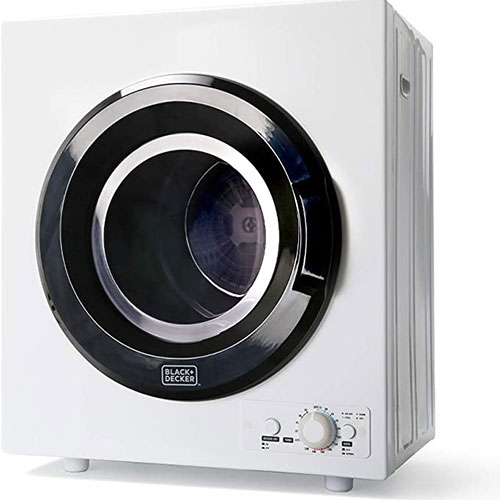 Black + Decker BCED37 portable dryer is a solid product you need in an apartment to deal with tons of laundry. It's an ideal piece of equipment to keep in a small room with limited space. The load volume of a washing machine is about 13.2lbs, and its inside capacity is 3.5 cu. ft. This versatile model has different drying modes according to your needs. It includes cool, warm, air dry, and hot.
It doesn't matter if you are washing sensitive clothes or just an ordinary pile; it protects the color and texture. It dries clothes at the power of 1500W and keeps the machine cool when working for a long time due to overheating protection. This portable dryer consumes time from 30 to 2000 minutes, depending on the load inside. It's not only a simple dryer but equipped with a 4″ diameter vent hose, lint, exhaust filters, and connectors. The stainless steel drum is durable enough to protect itself from catching rust or corrosion.
The front-loading transparent lid helps you view the complete cycle, and you don't have to keep opening the door. Drying clothes in a dryer was never this easy, and due to user-friendly features, this product is the customer's favorite. From drying sheets to clothes, this portable dryer is the solution for your needs. Other than fundamental functions, the sensor drying function detects moisture automatically for adjustments.
Sensor drying function
Built-in ECO mode
Stainless steel drum
20-300 minutes of drying time
Settings are at the bottom
Panda Portable Spin Dryer for Swimsuits and Laundry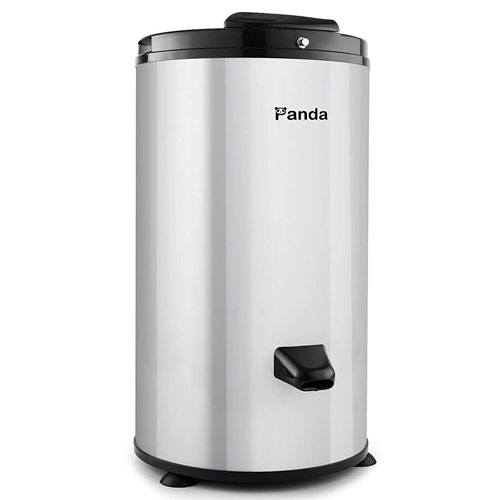 Panda PANSP22 portable spin dryer is designed to eliminate excess moisture from clothes to remove any odor and wetness. Some machines provide slow spinning speed, and as a result, it consumes half of your day for drying. Panda PANSP22 is an efficient model and delivers an excellent pace of 3200rpm to help you save tons of time for other tasks. This machine is not only suitable for drying excess moisture but for removing harmful mineral deposits to make them hygienic.
Whether you have just a room or a whole apartment to yourself, this machine consumes small space to operate and is portable enough to shift anywhere. You can dump a pile of clothes into the spin dryer, and it will stay gentle with them to maintain appearance. The stainless steel drum is reliable to last for a long time, and you won't smell any odor from it. PANSP22 is safe to use around kids due to the safety lock lid and rubber feet. The maximum capacity of this machine is around 16-22lbs.
From the outer case to the inner, it's made of stainless steel with a drain spout. The overall appearance is stylish, so you can keep it anywhere without worrying about the appearance of your place. Along with the exceptional performance, it consumes 3W of energy annually.
3200rpm speed
16-22lbs capacity
Stainless steel drum
Remove harmful minerals
It won't dry clothes completely
Panda PAN865W 2.6 cu.ft Compact Laundry Dryer, White
Panda PAN865W is a small but mighty model you want to invest in to deal with wet clothes right after washing them. If you are worried about space, it has also solved that problem. It's the best portable dryer for an apartment with a 2.6 cubic ft. capacity. The stainless steel drum enhances performance and stays in the same conditions after years of usage. The drying capacity of the machine is about 8.8lbs, so there is no need to spend an entire day waiting for your clothes to dry.
This compact laundry dryer is an excellent appliance to keep in the room when you don't have space anywhere in the apartment to let washed clothes dry. Whether drying clothes day or night, the sound is below 70Db that can't disturb the surroundings when working. The power cord length of an appliance is also around 63″, so you can connect it anywhere without moving this whole thing.
Other than that, you can expect advanced functions from it, too, such as intelligent humidity sensor, Touch-screen control panel, multi-installation models, and much more. You can install it in 3-different ways include wall mount, stacking, and side-by-side. The three layers filter keep dirt away from sticking on your clothes and keep kids safe by activating the child safety lock. It works in both directions and is user-friendly, so you don't have to figure out how it works.
Child lock safety
3-installation modes
70Db of sound
User-friendly functions
Heavy clothes may consume time more than an hour
DryGuy DX Forced Air Boot Dryer and Garment Dryer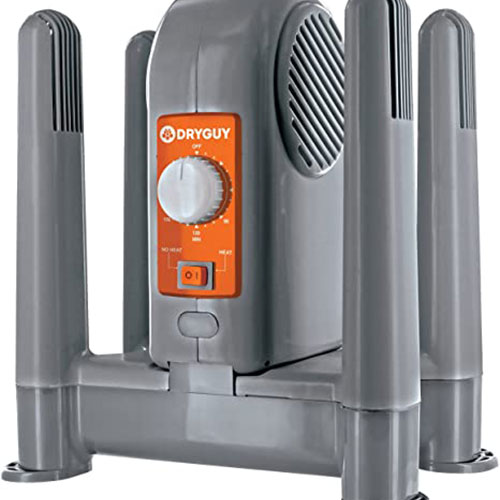 Are you looking for the kind of appliance that can dry everything from shoes to clothes in a few hours? You have landed at just the right place because Dryguy DX forced air boot and garment dryer is the best one to keep in your apartment when you want to dry out everything. This machine can remove moisture from the clothes by providing 105-degree heat. For drying long boots, it has two removable extension tubes that measure 16-inches tall.
It's suitable for heavy clothing and safe to use when you don't want stuff to shrink or fade. Other than drying your clothes, it can also remove any odor and make them fresh like they are just out of a washing machine. If you are tired of stinking heavy clothing, this is the solution you need. The unit is quite versatile and won't consume your time when operating it for the first time.
If you are worried about its operational sound, another advantage is this unit is quiet. It doesn't make a loud and irritating sound when drying garments for hours. Dryguy DX forced air, and garment dryer is durable and can last at your place for many years to come. The overall construction of this unit is durable and worth investing in when looking for something exceptional to use for drying.
Durable to last
Quiet operation
Works on 105degrees heat
Safe to use
It's not suitable for delicate clothes
KASYDoFF Portable Dryer 1500W Clothes Dryer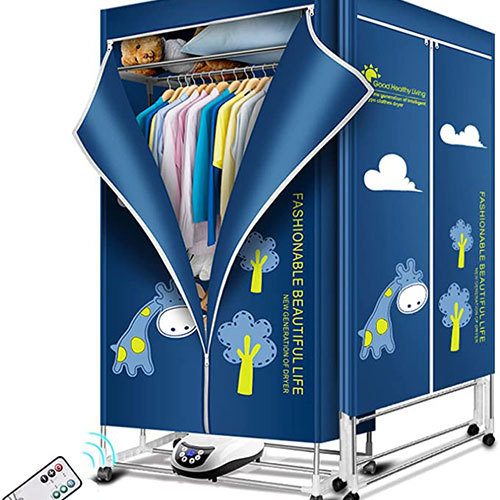 How tiring it would be when you have to deal with tons of laundry in the first place and then waste half of your day to dry them. Well, things are changing, and people are finding easy ways to complete their daily tasks. Kasydoff portable dryer 1500W is here to help you dry the clothes of your whole family in one go. It has 15kg of total capacity to keep clothes inside with a 3-tier foldable design. The compartment is made of stainless steel to deliver durability for years.
It's the best portable dryer for an apartment because when not using it, you can fold it and keep it anywhere without disassembling it. Your stuff will not be wrinkly after coming out of the dryer because of the hanging design inside. It has 12-towel bars, and the machine is quiet in operation to maintain peace around you. The intelligent temperature control keeps the heat between 50-70 degrees and maintains the appearance of every cloth.
Due to the Smart sensors of this machine, one doesn't have to deal with over-heating problem because as soon as it detects anything unusual, it shut down automatically. The intelligent wireless remote control allows you to operate the machine by sitting at your place. This unit is convenient for the elderly, and they can have spotless dry clothes in just a few hours. The company is providing one year of after-sales service for a free replacement.
Sensors to detect overheating
Hanging design
15kg of capacity
Intelligent wireless remote control
It may take more than 6-hours to dry for heavy clothes
What to look for when buying a portable dryer for your Apartment
Before buying the best portable dryer for an apartment, one should read a few things that can help to choose the right product. The traditional way of drying clothes consumes lots of time, but drying units can simplify the task like never before. Let's get into the valuable buying guide and note down some points.
Quick Process
Who wants to spend countless hours drying clothes when their hands are full of other things? If you are the one who often finds yourself in such a situation, portable dryers are designed for your ease. When buying this machine for your place, ensure it has a quick process to save your time and can handle most of your laundry in one go. Don't waste your precious time when you can use this unit to get over with clothes drying in a few hours.
Foldable
The portable dryers are best to save space and for carrying from one place to another. Assembling them is not a big task, but some of the dryers require dissembling for folding. When buying one for the home, ensure it's small in size, it won't consume space. Also, it should be foldable to keep anywhere when not in use without removing parts. This feature will make carrying easy for you when shifting or traveling. Choose the lighter one, and be reliable to last for years.
Durable Construction
Without a durable construction, how is it possible to use a unit for even a year? While making a buying decision, another major factor to consider is durability. Some people choose cheap products because they are doing the same work and at much less price, but what if after a few months it stops working? To save yourself from this inconvenience, one needs to make sure that the unit's construction is durable and can last for years to come.
Capacity
It's easy to choose the portable dryer when living alone and don't have many clothes to dry. What about family? No one wants to waste their day sitting in front of a machine because you have a pile of clothes remaining. The best portable dryer for an apartment should have enough capacity inside the compartment to dry most garments in one go without wrinkling them. The inner container should be of stainless steel so it won't catch rust or corrosion from wet clothes.
User-Friendly Features
It's annoying when it's time to figure out how a machine works after buying. Some are way too complicated, while some are user-friendly for ease. People avoid complex units as no one has time to understand each function separately. Choose the portable dryer with user-friendly features, operation capability, and sensors. It should be safe to keep in the home around kids and shut down automatically when not in use for a few hours.
Spinning Speed
When picking out the portable dryer with a spinning function, ensure it's speedy and save your time. Spinning speed matters a lot when drying laundry and wants efficiency from the machine. Look out for the models offering maximum performance due to the impressive spinning pace. Also, it should have a see-through window to see the progress without opening the door. A spinning door must have a child lock to maintain safety around kids.
Quiet Operation
Usually, home appliances are loud and irritating, so people avoid using them at night. If you can't stand this sound, pick the dryer with a quiet operation. The sound level of the portable dryer should be less than 70Db, so even when drying clothes at night, no one will get disturbed. In addition to the quiet operation feature, look out for the unit that has consumed minimum energy for money saving. It will make a lot of difference on your bills and pocket.
Our overall thoughts on Portable Dryers
Finding the best portable dryer for an apartment requires some effort, but in the end, by evaluating a few factors, you can have the appropriate unit. We all want to save our time to invest it somewhere else but drying clothes is a time-consuming task. With the help of this blog, you can't only choose the dryer from our list, but you can also understand how to buy the best unit by considering a few points in consideration.
Frequently Asked Questions