Top wifi router for an Apartment in 2022
TP-Link WiFi 6 Router AX1800 Smart WiFi Router (Archer AX21)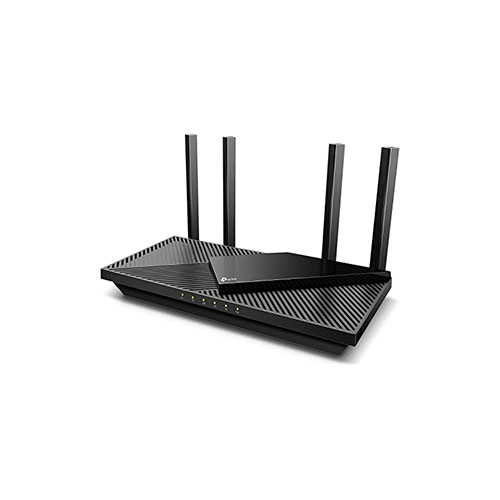 It must be frustrating when trying to have whole signals from the device, but it can't perform well. Without an efficient router, it's not possible to utilize the internet in the best possible way. TP-Link is known as one of the Smart routers in the industry, especially for professional purposes. AX1800 is the best router for an apartment because it helps achieve faster results within a limited time. It offers dynamic speed, robust security, stable connection, and so on.
It delivers stability to gaming, streaming, and downloading anytime, anywhere. By using revolutionary OFDMA technology, it can connect to multiple devices at a time without affecting connection speed. The extensive coverage is responsible for delivering excellent signal strength in every corner. Due to the robust signal base, web pages respond in a few seconds as soon as you click on them. It allows the whole family to connect to one device and get the best results
People often worry about whether their devices are safe or not when connecting to the router. This router works on advanced WPA3 security to keep devices and mobile phones safe from viruses and intruders. 1.5 GHz Quad-core CPU is powerful enough to handle the load on the router when multiple devices are downloading and streaming simultaneously. This WiFi router can serve you like never before and keep you safe at all costs.
Provide smoother gaming and streaming
Extra-added security to devices
Strong signals throughout the apartment
Connects with multiple devices
The range requires improvement for massive apartments
Motorola AC2600 4×4 WiFi Smart Gigabit Router with Extended Range, Model MR2600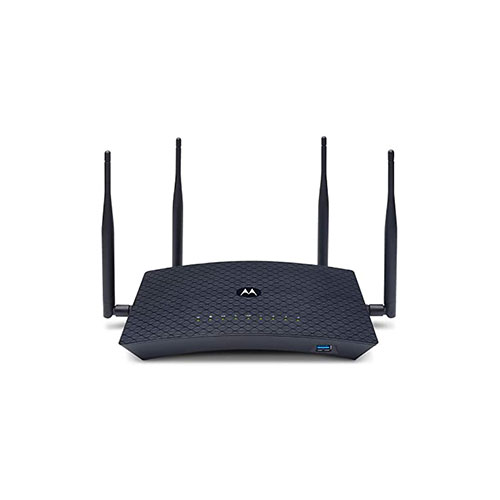 Motorola has set a benchmark in the market to produce technological gadgets like this one. When installing a router in your apartment, it should be good enough to deliver strong signals throughout the place. AC2600 Motorola router can establish an intelligent, secure, and stable connection with the devices to show off maximum performance. The router is not only suitable for mobile phones or laptops, but it can also connect to HDTVs and gaming stations.
It has 4 Gigabit LAN ports to connect many devices without disturbing the stability of the connection. The four adjustable antennas of this router can deliver extraordinary performance for 4Ghz and 5Ghz. For high-speed communication and elevating the speed, it works on 802.11ac Wave 2 MU-MIMO technology. No matter how many devices are connected to the router, it targets them individually to strengthen the signals.
The dual-core processor, Smart QoS, and user-friendly firewall make this router stand out among all. With the help of parental control, you can always keep an eye on your kid's browsing activity. The high speed and extended range are responsible for keeping your web pages responding in any corner of the home. The company is providing a 2-years warranty to cover the technical issues or damage. You will love every bit of this router when you want to enhance your gaming, downloading, or professional browsing experience.
High-speed connection with extended range
Establish secure connection
2-years warranty
Adjustable antennas
It doesn't have a built-in cable modem
NETGEAR Nighthawk Smart Wi-Fi Router (R7000)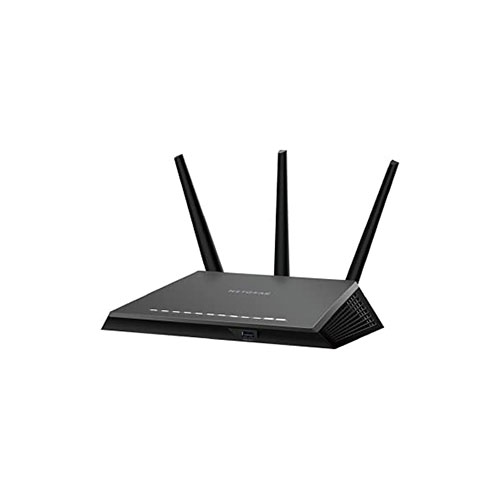 Are you unsatisfied with the current performance of your router? This is the time to replace it with something durable, secure, and efficient in performance. Netgear nighthawk Smart Wi-FI router R7000 is all you need to enhance your browsing experience like never before. It can cover an area of about 1800square feet with a dual-band up to 600 and 1300 Mbps. This impressive router can connect up to 30-devices for gaming, downloading, streaming, and surfing.
Other than wireless connections, you can also connect wired devices to it with the help of 4×1 Gigabit Ethernet ports. This router is loaded with technology and has a 1 GHz dual-core processor. Along with the basic features, this model is also offering Amazon Alexa voice controls, amplified antennas, beamforming, dynamic QoS, and Smart connect. As a professional, you can create cloud storage anywhere by using 1×3.0 and 1×2.0 USB ports.
The router is not only safe for you but for the kids, too. It provides a parental control feature through which you can pause device access, view history, and filter websites. If you want to get access to advanced features like scheduling access and setting a time limit, you have to subscribe for just $4.99 per month, you will get a one-month free trial. Netgear router is powered by Bit defender cyber security to protect every device connected to the router.
Smart parental controls
Strong protection against data theft and malware
Compatible with Alexa voice controls
Connect up to 30-devices
Gryphon Parental Control Router & Mesh WiFi System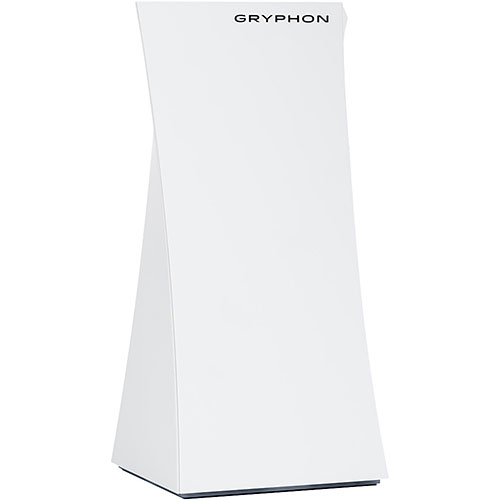 Are you tired of using traditional home Wi-Fi routers that can't provide protection and stable connection? If this is the case, Gryphon parental control router is in the market to serve you with the best services. It offers more than a traditional router and delivers ultimate protection to all the devices nearby. It is compatible to connect with Smart appliances, so you can enjoy streaming and downloading without interruption.
Imagine feeling safe and secure while browsing because you are safe from data theft and other problems. The fast mesh WiFi provides complete coverage to every inch of the home, and there will be no more weak zone. It not only controls your connected devices but gives you peace of mind by setting bedtimes on the router, parental control feature, and protecting from hackers. The internet protection of this router is unmatched, and by subscribing to the membership, you can utilize intelligent intrusion detection, malware filtering, and kids browsing history behind your back while traveling.
When everyone is sitting at the table, you can suspend the internet on all devices for a while. It has 6-high-powered internal antennas with 4×4 MU-MIMO & Antenna Beamforming. It allows you to check the website ratings before entering the home page. The blazing fast speed and stability make it the best router for an apartment with strong signals.
Fast mesh Wi-Fi
6-high powered antennas
Enforce safe search
Secure network with parental control
The user interface is too simple
NETGEAR Nighthawk 12-Stream AX12 Wifi 6 Router (RAX120) – AX6000 Wireless Speed (Up to 6 Gbps)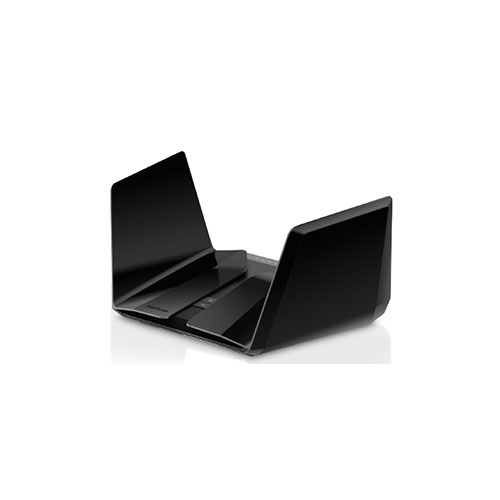 Need more power from the Wi-Fi router with a blazing speed? By installing Netgear nighthawk RAX120 you can eliminate all the dead zones from the apartment by having whole signal strength in every corner. Netgear Nighthawk 12-Stream AX12 Wifi 6 Router (RAX120) can provide an uninterrupted impressive internet experience on any device. Not just streaming, but it can transfer files at the speed of 6Gbps.
The device is compatible with several internet service providers such as DSL, satellite, fiber, and, so on. When installing it in your apartment, you don't need assistance because it is easy to set up and requires a few minutes to get started. You can customize the settings as you want, like managing Wi-Fi settings, internet speed testing, speed history, and history monitoring. With the help of this router, you can create personal cloud storage from anywhere by utilizing 2×3.0 USB ports.
Netgear Nighthawk router is powered by Bit defender to keep every connected device safe from data theft and, hacking. You can browse the world in peace, and your data will be safe with it. For advance protection, you buy the plan by investing 69.99$/year. The appearance of this router is technological and gives beautiful look to the overall apartment. It has a 2.2 GHz Quadcore processor and can support any device with 5Gbps.
Wifi coverage up to 3500sq.ft
Robust network security
Supports internet plans
Easy to set up and customize plans
What to look for when buying a router for your apartment
A router should fulfill all the requirements and provide you with a comfortable stable connection to load webpages in a few seconds. For picking out the best router for an apartment, you should go through this comprehensive guide to consider a few factors while buying.
Security
How many times do you feel secure while connected to the public network? Security is the basic concern of every user while browsing to keep the data and other information safe. While choosing a router for the home, one should ensure about its firewall and whether it's capable of providing enough security or not? A router should keep VPN active and protect the IP address from hackers to keep you and your family safe on the internet. Stay secure while being on the internet and protect your data from digital thieves.
Signal Range
No matter if living in a small or massive apartment, a router should have enough range to cover nearby rooms or halls for better signals. If you are working from home, a pro-level router is a requirement. When investing in any device, ensure it has an extended range to eliminate dead zones in an apartment. It should also support wired and wireless connections with the same speed without interruptions. If you want to go for the advanced device, look out for the option to connect with the Smart appliances at home.
Easy to Use
Whenever people buy something from the market, they make sure it's user-friendly and easy to set up to save tons of time. The same goes for a Wi-Fi router, when buying it for the first time, check the features and other setting options. It should be easy to use, and one must have all the access to the settings without getting into complications. If the router is user-friendly, you don't have to ask for help from anyone as it will be easy to install, and you will love the operational procedure.
Parental Controls
As a modern parent, you should know that while your kids are on the internet browsing through different websites, they are exposed to hackers. Also, they are wasting way too much time when not keeping a check on a surfing time limit. The parental control in the router allows you to monitor kids browsing activity, and you can limit the access when it's time to study or eat. You can also stop the access of a few websites and protect them from internet threats. Parental control also gives access to other advanced features for strengthening security further.
Apartment Size
Another crucial factor to consider when buying a router is to determine the apartment size. If you have a large area to cover, but you are choosing a router to cover the small apartment, of course, it will not work. Keep in mind how many doors and dead areas are in your home for the coverage. After evaluating the whole scenario, you can buy a router that can maximize the performance, and deliver desired results.
Multiple Connections
What if, after investing a handsome amount, you came to know that this device only allows a few devices to connect at a time? To save yourself from this inconvenience, ensure the Wi-Fi router can connect different devices (such as a doorbell camera) simultaneously without affecting overall connection performance. It should also focus on each device separately to maintain connection strength. You can check the strength before buying it by going through its specifications and reviews on the internet.
Voice Controls and Specs
Everything is moving towards the technological side, and now it's possible to control every device of your home by voice controls. Many Wi-Fi routers out there are compatible with Alexa, so you don't have to keep managing the settings manually. Other than voice controls, make sure the other specs of the router, such as antennas, processor, and, bandwidth are available according to your requirement.
Our overall thoughts on routers for apartments
A high-quality router is responsible for delivering stable and secure internet to you and your family. Just to save a few bucks, never compromise on the browsing safety. We hope from our given list, you can choose the best router for an apartment and love the results.
Frequently Asked Questions