Door cameras are all the rage right now and rightly so! They allow you to monitor people at your door remotely and increase your level of home security. If you are renting an apartment, you might be worried about whether you can install a camera or not – firstly, you are best talking to your landlord, but if you wish to install one, then there are plenty of options where you there is minimal work required to the apartment.
Most of the cameras run off rechargeable batteries and don't require any fixed power and can easily be attached to the door or door trim. So setting up a security system in your apartment can be quite easy. The cameras actually provide more security which is a benefit to the landlord!
So when it comes to choosing the best door camera for your apartment how do you decide?
Well we have made a shortlist of the 5 top door cameras for people renting an apartment.
Our Top 5 Apartment Door Cameras List 2023
Comparison of the 5 Best Door Cameras for Renters
Best Apartment Peephole & Door Camera Reviews 2023
Ring Video Doorbell – newest generation, 2020 release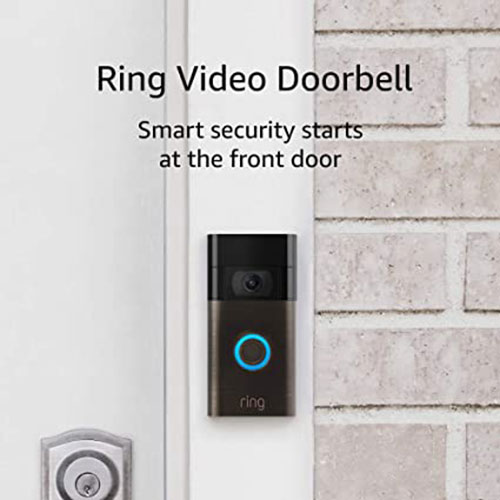 These days, it's just not about keeping your family safe by installing security alarms at your home but knowing to whom we are opening our doors. If you are the one who is concerned about their family while not being at home, then this is the product you should invest in. Ring video doorbell by the ring store is the best door camera for an apartment.
No matter, if you are in the same city or another, it's possible to monitor the security with just one touch. You can connect it to the tablet, PC, or computer from anywhere, and due to 1080HD video, it's possible to hear, talk or see anyone coming to your place. The improved 2020 release is providing excellent night vision, motion detection, access to privacy zones, and audio privacy. As soon as someone presses your doorbell or moves around the motion sensors, you will get an instant notification on the phone.
The battery power is not an issue because you can connect the bell with an existing system or use its built-in rechargeable battery. Setting up this doorbell is way too easy as you only have to connect it through Wi-Fi and fix it with the provided tools. You can also pair it with Alexa-enabled devices to communicate and has a separate ring protect plan to record videos, previews, and other activities to watch later for up to 60-days.
Real-time instant notifications
1080HD video
Compatible with Alexa
Deliver crisp security
Installation may consume time
Ring Peephole Cam with Ring Chime (1st Gen)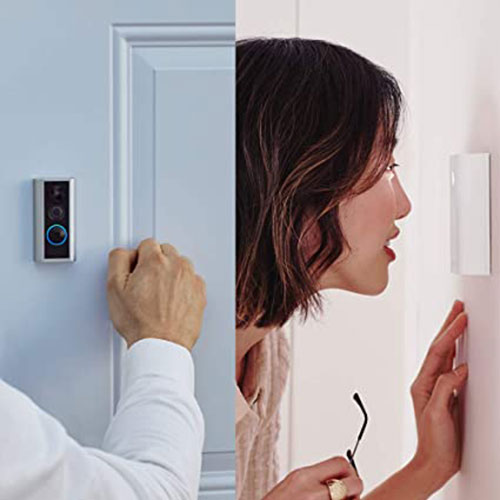 This package consists of two things, a ring peephole, and a ring chime. By connecting them both, you can have a real-time notification to your phone. When someone rings the doorbell or as soon as motion sensors detect anyone, you will get an alert. Now you can have a clear HD 1080 video right from the apartment peephole camera, and it allows you to communicate to anyone on the other side of the door.
If buying this kind of product for the first time, don't worry about installation because, with the help of provided tools, you can finish a job in a few minutes. You don't have to drill or ask someone to create new wired connections for installation. With the help of an Echo device, whenever someone will press your doorbell, you will listen to the announcement, and it has a screen, you can also have a live view of the person.
The advanced motion detection lets you customize the built-in motion sensors so you can focus on what's important to watch. You can also subscribe to the ring plan that offers additional features such as recording videos, reviews, and photos for up to 60-days. You can also share the record later with anyone. It also has a removable battery pack for your convenience and is compatible with Alexa for ease. Above all, it's offering knock sensor detection, so you immediately know who is on the other side.
Advanced motion detection
Real-time mobile notifications
Compatible with Alexa
Knock detection sensor
Peephole has a low-light transmission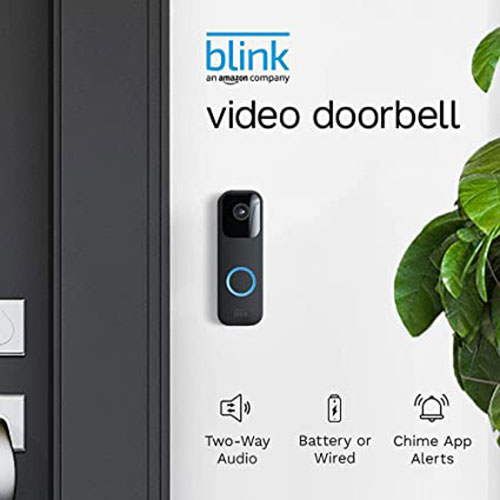 Whether working or traveling, you can monitor the home and keep it secure from strangers. Install blink video doorbell when you don't want to risk the safety of a family in your absence when everything is risky. Whenever someone is knocking on your door, you can answer it by looking at the phone and communicating. It allows 2-way audio, 1080HD video, and infrared night video. The impressive features of this doorbell include custom alerts, long-lasting battery life, privacy settings, and lots more.
Whether living in an apartment or home, this doorbell is suitable for everyone. You don't have to create new wired connections to install it, fox it into the existing bell and start using it. Fix two AA lithium batteries into the bell and connect the bell to Wi-Fi so it can perform. The company is also selling sync modules, you have to buy them separately for live video and two-way audio.
By subscribing to the Blink plan, you can save and share clips to the cloud for up to 30-days. This doorbell is compatible with Alexa, and you can let it answer the door when someone is there. It was never this easy to keep your home secure from uninvited guests, and this product is quite affordable and lasts for years. With the help of a mounting kit, you can install it in a few minutes without anyone's assistance.
2-way audio recording
LED ring for active status
1080p HD video
Customized alerts
Extra screws are required to fix it
Brinno Peephole Camera Home SHC500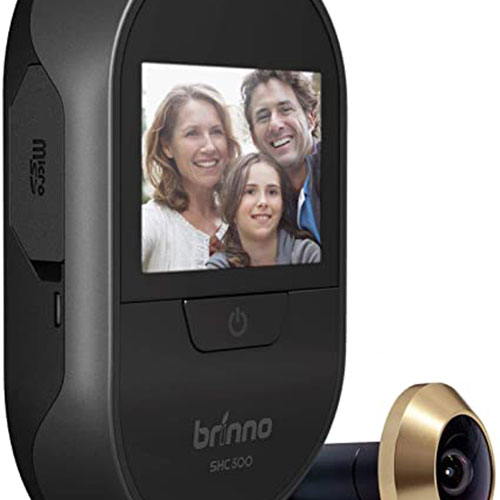 Brinno peephole SHC500 is the best door camera for an apartment with a gold plate. If your door is 28mm-58m wide, this is an appropriate product for you to monitor home security. The appearance of this door camera is absolutely beautiful and gives a tech-friendly look to your apartment. When someone is at the door, you can capture a picture of them through LCD to save and to think whether you should answer or not?
If you are already using a peephole, it can install into the existing one, and there is no need for additional tools to change it. Installation takes a few seconds, and there is no need to call a professional until you have no idea how to do it. The battery is reliable enough to last for a long time and won't ask for replacement after a few months when used continuously. It runs on 4AA batteries that are highly reliable and can handle 3000 button pushes.
The best thing about this doorbell is its wireless, theft-proof, and has concealed in design. It also supports a micro SD card of up to 32GB. It's an affordable product to choose for a home when you don't want to compromise on safety when traveling.
Allow taking pictures of visitors
Easy to install
Gold peeping hole
Allow manual operation
It doesn't have 1080HD video
eufy Security, Wi-Fi Video Doorbell, 2K Resolution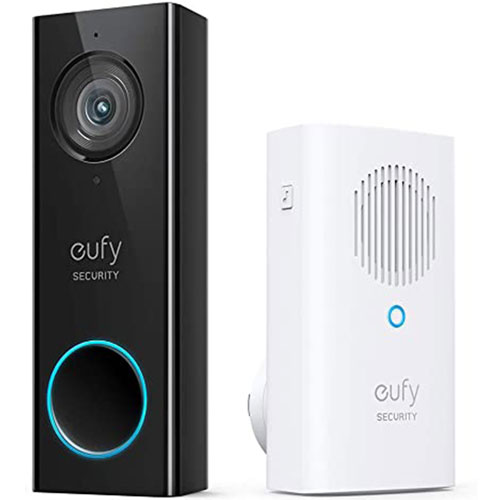 Why compromise on family's safety when eufy security Wi-Fi video doorbell is here to protect you. There is no need to peek out of your window or door anymore when you can immediately know who is there, by looking at the screen. This video doorbell offers a crystal clear resolution of 2K as it is combined with advanced HDR and distortion correction. If you are worried about hidden costs, well, there are none and, you only have to buy them.
This product is worth the investment because it lasts for a year, and there is no need for high maintenance when used constantly. You can view anyone standing at the door and speaking directly through two-way audio. Choose when to answer the door by looking at the guest on a screen. The camera works through AI technology, and it detects the face and body separately to focus.
Get an alert on your screen before someone presses the doorbell and decide if you should answer or not? Your data included videos and, images are safe due to 256-bit encrypted connection. You can always count on the clear view by the camera and can trust the storage without formatting after every few days. You can also customize the Smart detection zone and receive alerts when someone hovers around that area.
Customized detection zones
2K crystal clear resolution
AI technology for detection
Two-way audio
Installation requires time
What to look for when buying an Apartment Door Camera in 2023
Are you still thinking about installing a door camera and not sure about it? Well, a doorbell with a camera is essential to fix in your apartment, especially when you are out most of the time and don't want to risk your family's safety. This buying guide is essential for you when planning to buy one but consider a few factors to end up with the appropriate product.
Camera Resolution
Cameras are all about resolutions, and that's why we always look for HD quality for crystal-clear results. When it comes to the best door camera for an apartment, how can we neglect this crucial feature?
To view someone, and have a perfect result on the screen, choose the camera with HD resolution. This is a one-time investment but can make your coming years secure. From the light reflection to sharp images, it all depends on the quality of the camera you are about to use.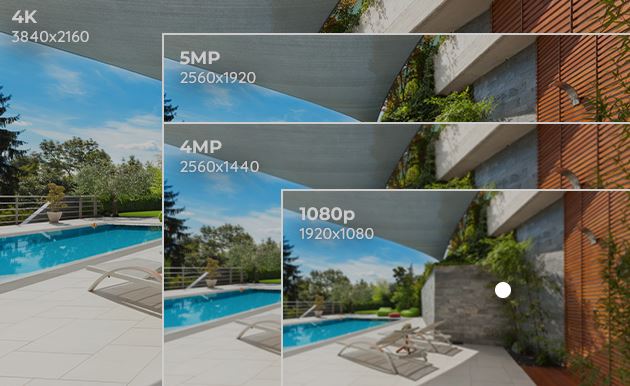 Motion Detection
The aim of installing a security camera is to detect a presence when someone is around your area and keep moving. The door camera with motion detection can help you analyze when someone is constantly moving around your place. You can customize the detection zones in some models, and as soon as someone moves, you will get an instant alert on the phone. It would be great if you choose the one with advanced features that help you customize a few areas. The night vision of the doorbell should be crisp as well, so you can keep an eye on the late hours, too.
2-Way Communication
How will you answer someone when the doorbell is not offering 2-way communication? These doorbells with cameras have come up with 2-way audio, and you can connect the device from anywhere in the world. As soon as someone is at your door, you can answer them immediately to talk. For an instance, if you have a delivery man on the door, you can tell him to leave a parcel, and later you can pick. Some are also offering recordings so you can create data.
Door Camera Installation
When buying something for the first time, installation can be a headache. People are more likely to purchase products that require less installation work. If you don't want to get into another problem by calling someone to install it, choose the one with user-friendly installation. It should be compatible with the existing system and take a few minutes to set up. Pick the one with wireless features, and you don't have to create new connections for it.
Alexa Compatible
Amazon Alexa is everywhere, whether we are installing a new TV or a home theatre; it is too easy to work through it. In the same way, you don't have to answer the door when Alexa is here and can deal with it. Check this feature while making a buying decision; it should be compatible with Alexa to save data. By subscribing to the packages, you can create data on the cloud for up to 30-60 days for sharing.
Warranty
People often keep this feature in their least focused factors because these are a one-time investment and, they often think it's going to work for decades. What, if due to some technical issues, the doorbell is not working anymore? Despite calling the worker from the company, would you hire someone from outside who doesn't know anything about its technical specifications? Before buying, go through the company's warranty policy so, in case of any issue, you can replace or return it without losing money.
Battery Life
Maintaining the batteries of any product constantly in use is a daunting task. When installing the best door camera for an apartment, ensure battery power, and they must last for 6-months. Due to the weak batteries, the performance of a product can get affected, and you will not get the desired results. Learn about the battery type and then decide to invest.
Apartment Cameras: Final Thoughts
The best door camera for an apartment will not only keep you protected from intruders but let you know when someone is here and, it's time to prepare. The high-quality video and security features make life simple, and by looking at the screen, you can decide whether to meet or not? This technological doorbell is compatible with Alexa, and you can communicate with anyone on the other side of the door.
Apartment Door Camera FAQs