What do you do when the power goes out in your apartment?
Light a candle?? pfft that's oldschool!!
These days portable generators and power stations are the go-to source of emergency power. These units are pretty darn cool and will keep you connected until the power is restored.
Choosing a power station is pretty straight forward, it prety much comes down to 3 things;
Amount of power stored
Types and number of connections/inputs
Price
There are a number of other factors to consider which we will mention a bit later on.
So based on those 3 main criteria we have narrowed the products down to our top 5 indoor generators that are perfect for apartments.
Here are 5 of our top picks.
Top Indoor Generator for Apartments in 2022
Jackery Portable Power Station Explorer 500, 518Wh Outdoor Solar Generator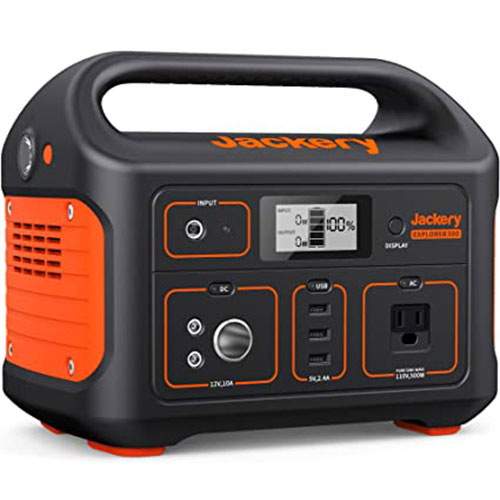 What comes into mind when you think about emergencies where electricity is unavailable, and you have no option but to stay in the apartment? A generator is the only thing that can save you from ultimate boredom and darkness. If you were searching for the best indoor generator for an apartment, your search must end here. Jackery portable power station solar generator is your partner in power emergency solutions.
This station is of a Lithium-ion battery pack to support indoor power problems for a long time. The durable battery pack helps improve reliability in any situation. The capacity is about 518-watt/hour, and it can power several appliances simultaneously, such as a heater, lamp, projector, TV, and other home appliances. While the generator is charging, the battery management system enhances every cell for better performance.
Your other question must be, how can I handle this generator from one place to another? Well, this device is equal to the basketball in size, and you can carry it almost anywhere with you. No matter, if going on a trip or camping, this generator is always there for you to facilitate. The generator is also compatible to pair with the 100-solar panel to run it from endless sunlight. Other than the basic features, it's also providing over-current protection, over-charge, and thermal security to keep you safe from mishaps.
Easy to use
Works on technological system
Long-lasting performance
Portable to carry anywhere
Not suitable for high-voltage appliances
NEXPOW Portable Power Station, 296Wh 80000mAh Solar Generator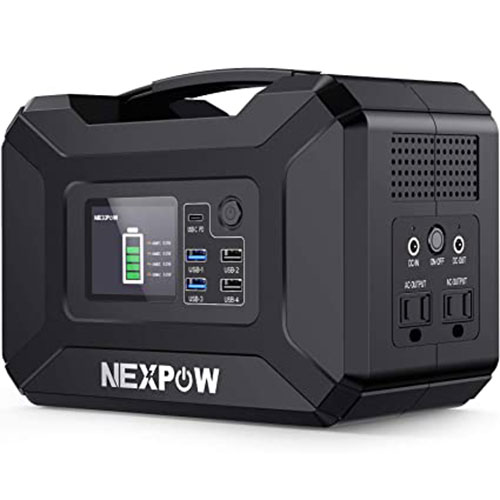 Nexpow portable power station is capable of meeting different electrical requirements without playing with the wattage of sensitive appliances. It's not only a conventional generator, but it also has quick charging USB ports such as mobile phone, laptop, camera, drone, and other appliances. You can also charge iPhone and MacBook without an adapter because of the protective screen at the front. The battery capacity is about 80000mAh for high-capacity and maximum performance.
From travel to camping, it can meet all your power requirements in an instance. It weighs only 7.5lbs and is easy to carry anywhere in the car. The unique design is easy to operate, and LCD will show the remaining charge/ DC output status and other settings. It also works as an emergency flashlight as the power station is loaded with LEDs. It features four LED modes, so you can set any light you want to. The lithium battery pack is durable and chargeable with a 15-24 volt solar panel.
Pure sine wave technology saves you from every dangerous situation, from short-circuit protection to over-temperature protection. The design of a generator is modern and multi-functional to deliver maximum performance. It supplies perfect power to an apartment, and you don't have to install additional devices for a constant supply. It's a versatile indoor generator and provides 3-charging methods include a car charger, solar panel, and wall plug.
4-LED lighting mode
Portable to handle
Built-in voltage regulator
High battery capacity
It may produce sound sometimes
ROCKPALS 300W Portable Power Station, 280wh (78000mAh) Solar Generator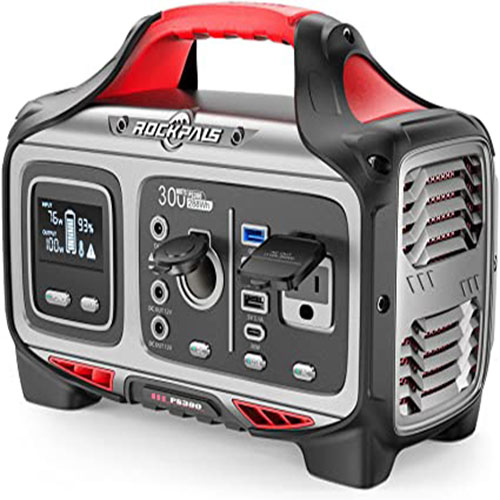 Brighten up your apartments by installing rock pals 300W portable power station. No matter if going out camping or want to maintain a constant power supply at home, this portable generator is your companion. The capacity is about 25% greater than others, that is 500W to perform exceptionally well. If you have decided to invest in this model, you will never regret the decision. The reliability is long-term, and you will love the user-friendly features, too.
The battery of rock pals solar generator is about 300W that also serves as a power station for different appliances such as charging laptops, mobile phones, drones, and other gadgets. None of the available models in the market can challenge the versatility of rock pal as it is offering 5-ways if charging and 8-output ports. The advanced battery management system is responsible for keeping you and your equipment safe from over-charging or heating damage. The net weight is about 7.7lbs, and you can carry it with you anywhere.
Rockspals 300W portable solar generator will turn off automatically to save maximum power after being on the standby mode for 12-hours when no device is connected for charging. The best thing about this model is it can last for several years without asking for any additional maintenance. It's of great value for money and easy to use indoors or outdoors.
Easy to carry
Durable to last
Excellent capacity for charging
Protect battery
DC port output doesn't work when the battery is low
BALDR Portable Power Station 330W, Portable Solar Generators for home use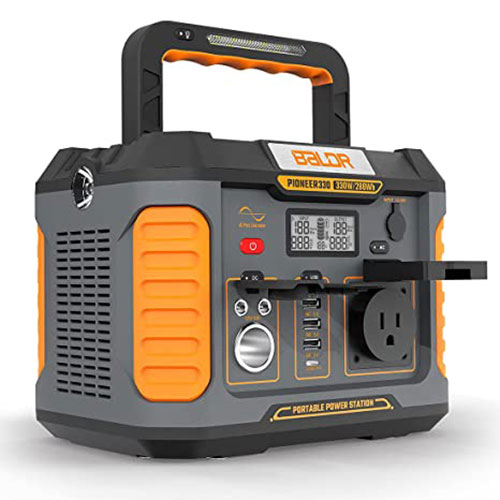 Are you looking for a reliable and budget-friendly solar generator with all the modern-day features? Baldr portable power station is the one you need to never deal with the power outrage again. It's offering 9-ports to connect other devices for charging simultaneously, and it will not leave a negative impact on the battery. This generator is 1 AC outlet, 3QC 3.0 USB, 1-type-C, a cigarette lighter, wireless charging, and 2 DC ports.
It's the best indoor generator for an apartment when you don't want to compromise on safety and quality. Due to the smooth electrical waveforms, it won't produce irritating sounds. It can convert DC to AC for the ease of a user. It prevents overheating to protect the device from damage and works on modern-day technology. It offers 3-different ways to charge without leaving a negative impact on the battery. To build an efficient solar power generator, you can combine it with Baldr 120W, and it will be completely charged within 7-hours. Other than this method, you can also recharge it with a carport and wall socket.
The battery management system is protecting against over-heating, over-current, short-circuit, overload, low battery, and high/low voltage. The solar generator weighs about 7.1lbs with a foldable silicone handle to carry easily anywhere. The total capacity of this generator is about 288wh to match all your activities. The device is quiet in operation, and it won't disturb the surroundings. You can plan to run this model for a long time due to robust construction and efficient performance.
3-ways of charging
Charge up to 9-devices
Pure sine wave inverter
Battery management system for protection
No complaints from existing users
EF ECOFLOW RIVER 288Wh Portable Power Station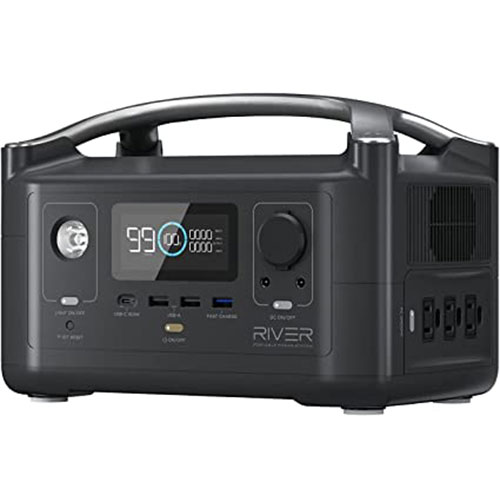 We all want to install products in our homes that must be user-friendly and save us tons of time. EF Ecoflow river 288wh portable power station is that efficient power generator you were looking for to solve power issues. Whether planning to buy this model for an apartment or traveling, you won't regret investing in it. The recharging power is impressive as it can go from 0% to 80% in just an hour. When you want to avoid irritating loud noises out of a generator, you can switch the charging mode to quiet.
This generator is not only compatible with small gadgets, but it can support heavy-duty kitchen appliances up to 1800W. Due to the advanced built-in algorithm by X-boost technology, it supports 80% of the home appliances. This technology saves equipment and prevents damage in case of voltage fluctuation. You can also monitor different modes by viewing the ecoflow app. By adding another battery, you can double the capacity up to 576wh, and it's easy to carry anywhere.
The size of the generator is a bit bigger than a toaster, and above all, it's convenient to carry for everyone. In case of any technical glitch or issue, the company is providing a 24-months product warranty to cover the damages.
Expandable power for longevity
X-boost technology
Faster charging
Compact and portable
What to look for when buying an indoor generator
Buying the best indoor generator for an apartment must be a thoughtful process especially when investing a handsome amount. While looking out for equipment that offers longevity and maximum performance, you should consider some buying factors. By going through this comprehensive buying guide, you can end up with a compatible product.
Battery
When making a buying decision regarding a generator, a battery should be durable to deliver maximum performance. The battery capacity will provide you with a better idea of its performance and how many devices it can handle at a time.
Some generators allow adding an extra battery to increase the overall power. Before buying equipment, visualize your home and then choose the size accordingly. Without a reliable and durable battery, there is no benefit of using a generator as it will not support any appliance for a long time. The charging speed should be efficient as well for easy use.
Portability
Another issue people often go through while buying a generator for an apartment is portability. A generator should be portable enough to carry when evacuating or need it for outdoor plans. Modern-day generators are portable and easy to carry anywhere. Along with portability, ensure it has enough features and power to meet all your requirements without getting you into operational complications. If you choose the portable generator, it will be easy for you to set it up without anyone's assistance.
Protection
Everyone looks out for the devices that are safe to keep at home and protect the family from mishaps. The same goes for the generator and, one should never compromise on safety when installing any equipment in the apartment. It should provide excellent protection against over-heating, voltage, and any damage due to environmental factors.
The battery management system should be reliable enough to last for years and enhance its timings. The built-in protection is essential and, you can ensure specifications before buying to keep your surroundings safe.
Technological Features
How would you feel when you have invested a good amount in equipment, but in the end, it's not worth it? If it doesn't have modern-day features and functions, there is no use for it. We advise choosing the generator that must provide all the features you require to make life easy. It should support Smart appliances at home and convert itself into an inverter to recharge other gadgets that are sensitive to voltage.A generator equipped with modern-day features may make things easy for you compared to the conventional one.
Robust Construction
When buying anything from the market, our best intention is to use it for years and get the best return on investment. The indoor generator must have robust construction to survive in the worse weather or while working continuously for several hours. Sometimes people choose cheap products that may save you some money, but after some months, it stops working. To protect yourself from this inconvenience, you should buy the one made of reliable material and offer a warranty in case of any damage. It's worth investing in the reliable generator that lasts for decades to come at your apartment.
Quiet Operation
If you are already aware of the generator, then you must know how irritating is the sound of this equipment, especially the traditional ones. When planning to buy the best indoor generator for an apartment, the best thing you can experience is the quiet operation. Whether the generator is working for several hours or on a charge, it won't make an irritating noise to disturb the surroundings. You can count on the indoor portable generator to deal with power issues and peaceful working.
Our overall thoughts on Apartment Generators
To deal with power outrage, one should have reliable emergency equipment to count on. After going through our valuable researched products and buying guide, you can pick out the best one. Choose the equipment that is fully functional and user-friendly to simplify life. Plan which model you want to choose to deal with power issues and invest in it to make more years simple. Before installing a generator at your home, take some guidance from the professional workers and keep it 15ft away from the room. Check all the settings before starting it to prioritize safety.
Frequently Asked Questions